by John M. Hurt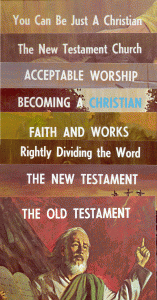 The free Bible correspondence course consists of eight lessons.  You will receive one lesson at a time.  After completing each lesson simply answer the questions on the last page of each booklet and return it to us for grading.
We will then send your next study booklet along with a copy of your last graded lesson.
If you ever have any additional questions that you would like to ask us, please write them down, enclose them along with your answer page and we will return the answers with your next lesson.
If you ever have any questions that need answering right away please feel free to Email us and we will respond as soon as we can.
Upon completion of this course, you will have the opportunity to take another course, if you desire.
To start  your lessons,  just fill out the form below OR call the church office at 706-635-2950.  We will receive your request and mail out your first lesson booklet as soon as possible.
If you would like a one on one in person study of the bible, please contact the church office at 706-635-2950.
May God bless you as you study his Word.